Are you looking for a way to get rid of your old car without having to pay anything? May it be because it is taking up space in your parking garage or has become too old to be maintained anymore – you have just reached the right place at Oriental Car Removal. We provide Old Car Removals at your doorstep! Just call us at 0414 664 990 and we will come to your location.
Why Choose Us for Old Car Removal
There are a lot of reasons for choosing Oriental Car Removals but here are some of the more important ones:
Oriental Car Removal can remove any type of old cars. Even if it's not in running condition and has been parked away in an empty lot or left unattended for a long time. We don't care if its damaged, unregistered, accidental or rusty. We will remove your old car whatever shape it may be in.
 
Our old car removal services are available in a very wide area.
 
The process is very easy and requires little to no effort from your side.
 
We are professionals who take their jobs seriously, and are only interested in providing you the best services.
 
We're open 24 hours a day and are always ready to come to your doorstep for providing old car removals and other services.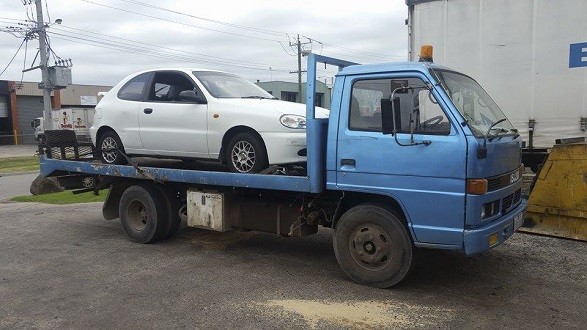 Areas Where We Provide Old Car Removal
One of the best qualities of Oriental Car Removal is the wide area that it serves. Very few old car removal services are available in such a large area, which includes all areas in:
| | |
| --- | --- |
| Car Removal in Greater Perth | South West |
| Joondalup | Mandurah |
| Far North Western Australia | Welshpool |
| Peel | |
What You Have to Do for Getting an Old Car Removal
Nothing – just one single phone call! You heard that right. We require very little input from you in the entire process. Mostly, you just have to be willing to get your old car removed. A simple call or filling a form on our website will ensure that one of our people will talk to you.

You can set up a time and tell the location of your vehicle, from where and when you want it removed. After that, our staff will take care of the rest.
Once you've set up an appointment with us, we visit you at your desired time and location. We take a look at the car and bring all exchange documentation with us. Once you've signed the exchange documentation we take the vehicle by any means necessary and take it to one of your recycling yards.

Your Old Car Removals at Oriental Car Removal are completely hassle-free. Except for signing the documents to make the process legal, there isn't much you have to do. Our Old Car Removals are also completely free of cost! Although that sounds too good to be true, it isn't. We provide free old car removals in all of the areas mentioned above.

As we intend to recycle your old vehicle, this means we put it to good use. But it also means that you get to make a quick buck off of it! We offer you a fair amount for your vehicle which depends on the condition it is in. With Oriental, you not only get free old car removal but also a possibility of making as much as $12,000.

No transfers, no fake commitments, just upfront cash payment, which will be quoted when you call us or fill an online form. So get that old car removed today! Call us at 0414 664 990