You might think that the junk vehicle sitting in your garage is worth nothing more than the scrap metal on its body. Well, it is wrong to assume so since many car wreckers and auto dealers might be willing to give you a greater amount of cash in exchange for your so-called scrap car that seems to be decreasing value. Several factors determine the real value of your car which are discussed in detail in this post.
Car removal agencies and car wreckers in Perth are popular for taking any type of vehicle in cash for cars exchange. These agencies are highly reputed for their professionalism and round the clock customer service. They take a wide variety of vehicles ranging from sedans and SUVs to trucks and buses. So for the safe disposal of your SUV, truck, sedan, 4WD, wreckers in Perth are the best way to go.
If you are wondering what the real monetary value of your vehicle is, then you have come to the right place. In this post, you will come across the top 6 factors that influence the price of a vehicle when you are thinking about selling it. So without further ado, let us move on to these determining factors:
1. Market Value of Scrap Metal
If the outer body of your car has a higher metal content, it will increase in value as nowadays, metal tends to be amalgamated with plastic, etc. However, this is no so in the case of older vehicles that have a higher quantity of aluminium.
Moreover, the price of scrap metal tends to fluctuate throughout the year. For example, the price tends to go up during the middle of the years and it decreases towards the end of the year. So make sure to study the market trends so that you get the best deal for your car. It is wise to wait till the steel prices in the market go up again; however, one should avoid waiting for too long to prevent the car from getting even more old and non-operational.
2. Condition At Present
By all means, you should consider the contemporary condition of your car. It is recommended that you create a detailed description of the current status of your car as you may be required to describe it to the car wreckers or your next buyer.
You should check out the exterior and interior state of your car. If the paint of your car has faded and there are scratches or visible dents, then it will adversely affect the overall value. Similarly, you should consider the condition of the seats, mirrors, etc.
If the parts of your car are still in great condition, then you can think about selling those parts individually at a slightly higher price. In case your car has been damaged in the accident, factors like repair work and the damage to parts will play a huge role in determining the value.
3. Availability of All Parts
If you have been taking the parts out of your car for sale, it can lead to a higher profit; however, it can negatively impact your offers from the scrapyards as they prefer to buy cars that have all parts intact.
For example, the junk car that is to be sold needs to have all kinds of parts such as engine, transmission, wheels, battery, steering rack, etc. Hence, it is important to inform the car wreckers if you have stripped some major parts out of your car. It always pays to keep the professionals of car removal agencies in the loop.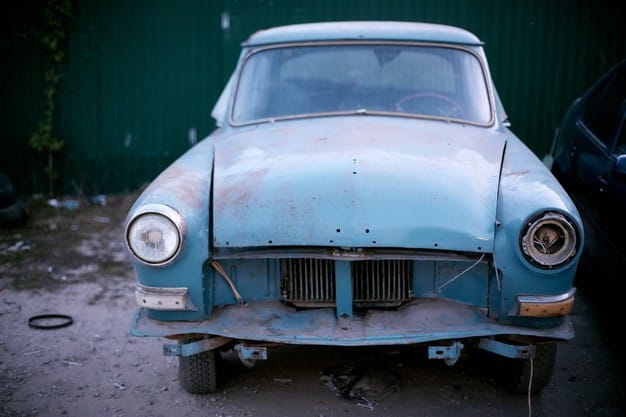 4. Basic Data
The basic specifications and data of your car such as its model, year of manufacture, and brand can determine how much cash you can get in exchange for your junk car. If the car is fairly new and expensive, then you can expect to get a better deal for your unwanted car.
Similarly, if the brand is premium, then the car will be in a class of its own when it comes to the money you will acquire. Moreover, you can weigh your car and the weight can help you in estimating the price of your car.
5. Type of Buyers
Depending on who you are selling your junk vehicle to, the price of your car can vary. For example, if you are selling your car to a private buyer, then you have to take into account the cost of advertising your car for sale. However, if you are selling it to a car removal agency, you can get top cash for your car. Similarly, many buyers procure scrap cars without hesitation and they sell them further at higher prices. One has to take all these factors into account when selling one's vehicle.
6. Demand For Auto Parts
Last but not the least, the demand for your car's parts can determine how much profit you can make by selling it. Even if they are not fully functional, auto parts such as the engine, batteries, and stereo system still have value as they can be recycled and repaired for further use.
If your car is particularly rare in the market, it can be classified as an antique or vintage, and usually, some collectors might be willing to pay exceptionally high prices in return for your so-called junk vehicle.
On a Final Note
You could consider getting your car fixed or repaired to get it running on the road again. However, if the repairs won't help, you can always reach out to a top-notch car removal agency in Perth. If you feel like your car has a lower value than what you expected, then there is no need to worry as Oriental Car Removal, a trustworthy agency in Perth, is well-known for offering top cash to buyers irrespective of the age, model, and year of manufacture of your car. So go ahead and reach out to the highly professional team at Oriental Car Removal today!